Anyone who does anything related to online marketing knows the importance of branding. Growing and spreading a brand is the key to a successful business; however, monitoring the growth of the brand is something that is much harder to measure. Typically, it will spread through word of mouth from satisfied customers sharing their experience with friends on social media. On the other hand, poor reviews can do equally as much damage. You can montior your brand through social media management services, but these tend to be on the pricy side.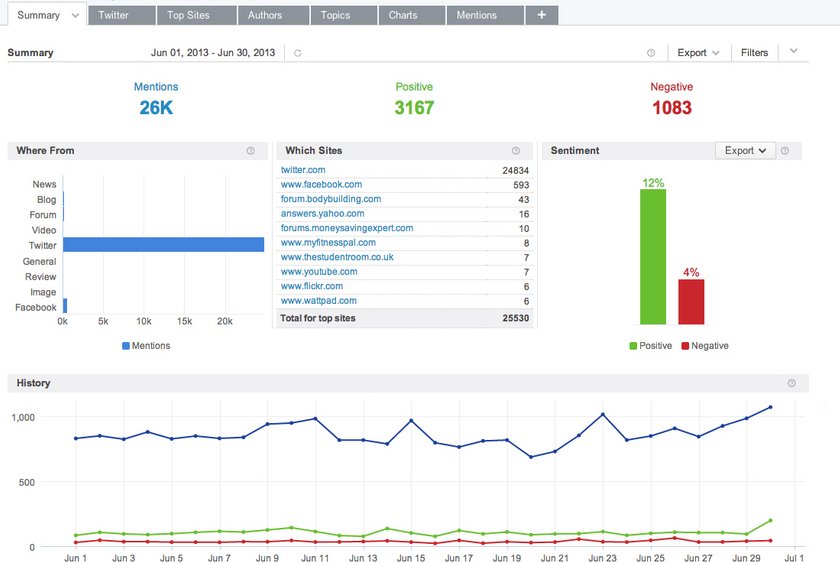 How Brandwatch Helps
Brandwatch makes it easy to do all of these things. Brandwatch works by gathering data about what people are saying in regards to your brand, your products, and your competitors. You can set up Boolean search strings to monitor; for those who aren't familiar with the term, it's an "on/off" setting, and is very easy to set up. Once established, these searches will run automatically in the background, tracking and storing information for you to examine later.
However, rather than reporting the data to you raw, Brandwatch cleans it before reporting. This eliminates reports generated by spam and advertisements, as well as duplicate messages, giving you a much more accurate final report that allows you to track the information. The analysis lets you determine what language the information comes from, giving you a general idea of how many countries your brand has spread to. In addition, the date and time are also reported; if your audience consists mostly of night owls, you'll know.
Perhaps the most useful feature comes in the form of "sentiment analysis." This allows you to track your brand and its reputation; if people are speaking positively about the brand, you know you're on the right track. On the other hand, if the sentiment is negative, this social media management service can help you make the necessary corrections to improve your brand's reputation.
Finally, the topic analysis tool can help you determine the effect your marketing has on brand growth. When you monitor your brand, you know relatively instantly if your press release, ad campaign, or other efforts have an effect. Armed with this knowledge, you can better improve and target the right demographics and keywords to make your business grow.
Pricing
Brandwatch offers competitively priced social media management tools to help your business succeed. Rather than spending money each month without any real support or results, Brandwatch's highly trained team and friendly support staff will be there to assist you whenever questions arise. If you're trying to improve your business, but you aren't sure what steps to take next, contact Brandwatch. When the tools are available to you, there's no need to let them go to waste. Make use of their numerous reports, eBooks, and benefits to monitor your brand and learn what it will take to improve your business and help it reach levels of success you've never even dreamed of.
If you enjoyed this article, Get email updates (It's Free)