Discover Three Insanely Useful Social Media Tools
In recent years, social media has become an essential practice for online marketing. Now that just about everyone is online, social media enables you to reach out to a significant number of potential consumers in a fairly simple way. What it comes down to, in the end, is choosing which social media tools to utilize, as there are many of them that help power marketing strategies (or simply manage all the information).
Therefore, I have compiled a list of 3 incredibly useful social media tools that have been employed successfully by marketing experts, some of which deal with aspects of social media that you may not have previously considered. With these tools, you will be able to fully take advantage of the various benefits social media has to offer so that you can get the most out of your own online marketing campaigns.
1. Addvocate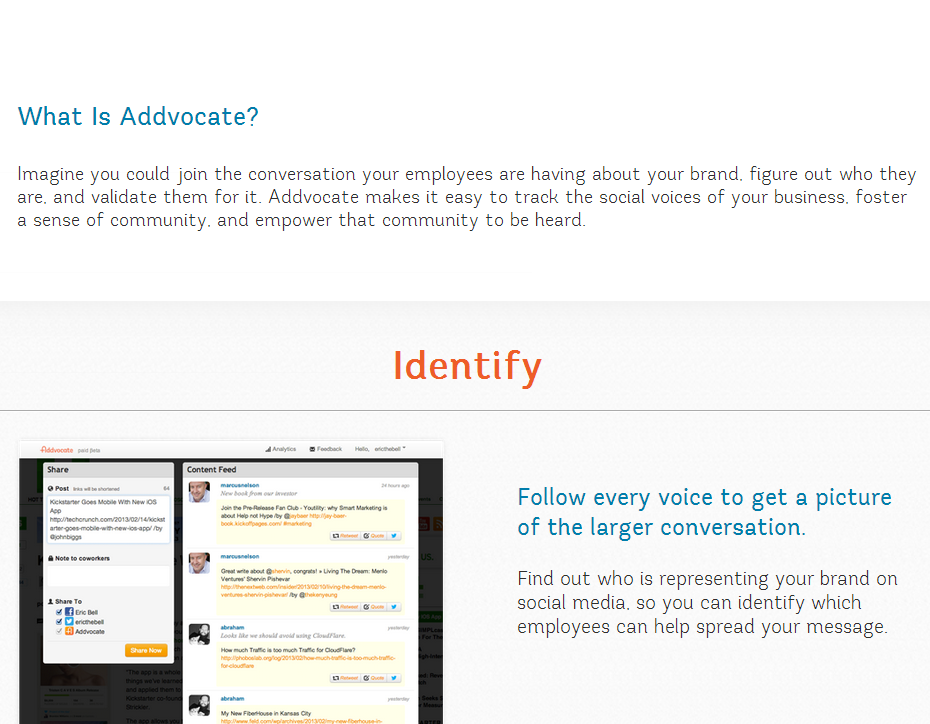 With social media networks, it can be difficult for your content to reach people who are not already followers of your page. A good way to tackle this predicament is to have employees of your company post on their personal social media pages about your company, as their connections, when added together, most likely make up a higher number than the fans of your company's page.
Advantage takes this idea and creates a plugin that employees can put on their computer that will allow them to receive ideas for content from their company. It also enables them to recommend content to others. The company then receives a detailed account of their employees' use of the plugin to post and share content, as well as the number of clicks their posts receive.
This feature is designed to be easy to manage, and it is also fairly cheap.
2. Tagboard
Tagboard allows users to search a keyword, or hashtag, and see every time it was ever used, regardless of the social media network it was used on. This tool goes through Facebook, Twitter, Instagram, Vine, Google+, and all the rest in order to track every usage of the desired hashtag. Such a tool, while cool in general, is also a valuable asset for following a specific brand. It allows you to track every time that brand was spoken about, enabling you to determine a number of valuable details, such as when it was used, why it was used, and how it is used most often. Another useful aspect of Tagboard is that it lets you respond to posts directly, without having to then find the post on whatever particular site it came from.
But what if we want to use Tagboard for a specific marketing strategy, such as social listening? Let's take a look at one of the top rehab centers and see how they could benefit from Tagboard – as an example to show how versatile or futile Tagboard might be, depending on your client or company.
12 Keys Rehab has a beautiful website and one of the most social media-savvy blogs – especially for being a recovery center. Their blog posts get thousands of page views and social shares, which is pretty impressive considering their industry.
So let's say we wanted to use Tagboard for social listening on "#rehab" and we run a search…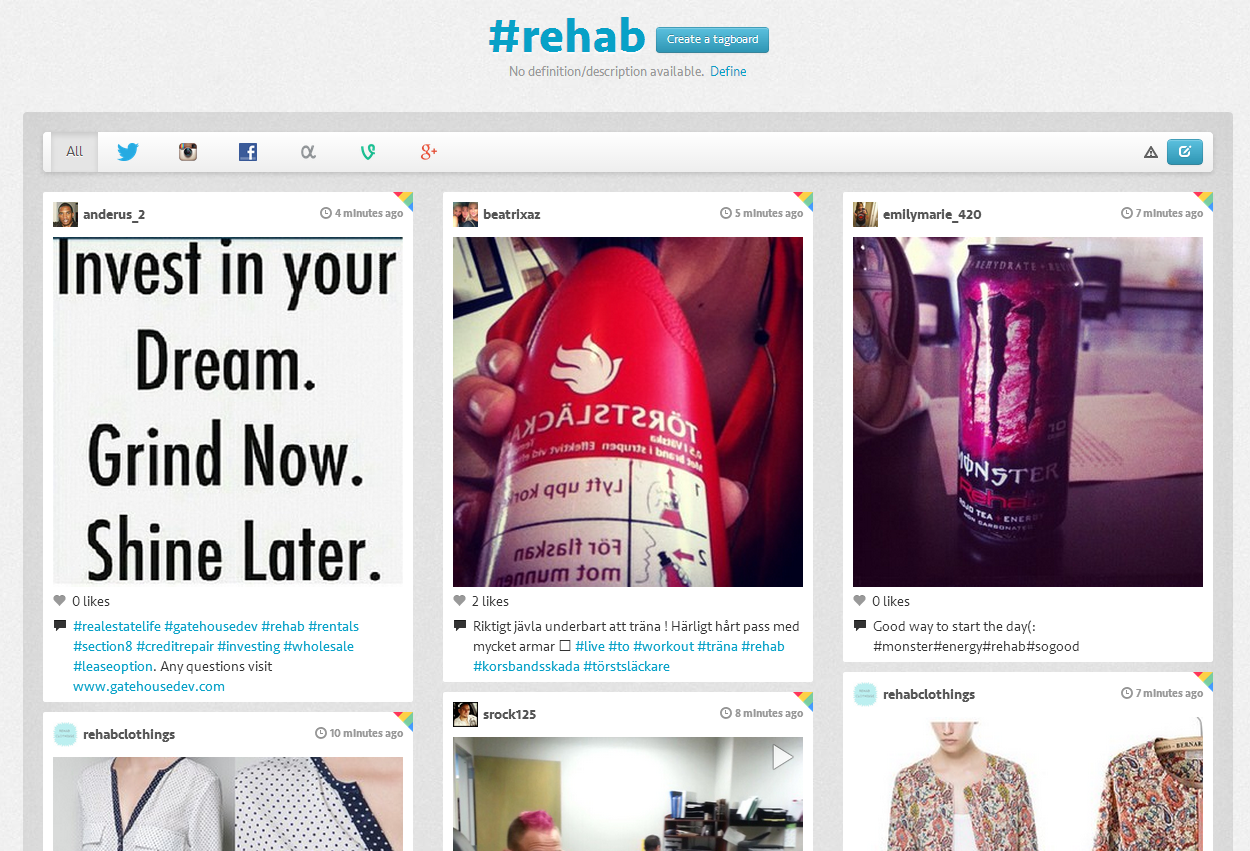 We end up with basically useless information. Instagram is just full of marketing junk and the Twitter feed was even worse (about two dozen spam tweets from a random company).  So this is pretty futile information. I wanted to demonstrate this example, because most tool reviews always show why the tool is awesome – but this shows you a situation where it might not be the best bet. However, Tagboard is great from a general perspective, such as "#fall" and compiling a "Best #fall Instagrams" type of post.
Many marketers use Tagboard to conduct topical research. By using various keywords related to an issue or an event, you can easily find associated articles and comments from various sites. While "#rehab" was futile, a well-planned hashtag campaign might allow 12 Keys to benefit more.
Conversely, you can also search for conversations taking place at that moment, so that you can reach out to a specific population, such as recent college graduates or new homeowners.
3. Compfight
Compfight searches through Flickr for pictures related to the thought, thing, place, feeling, etc. that you enter, and then provides you with all the related photographs that possess the proper license for commercial use. All you have to do is cite the photographer via the HTML code provided. This is the perfect tool for blogging on a budget.
I found Compfight much more beneficial to the case of 12 Keys. If we wanted to find photos to accompany a new page or blog post, Compfight is extremely useful: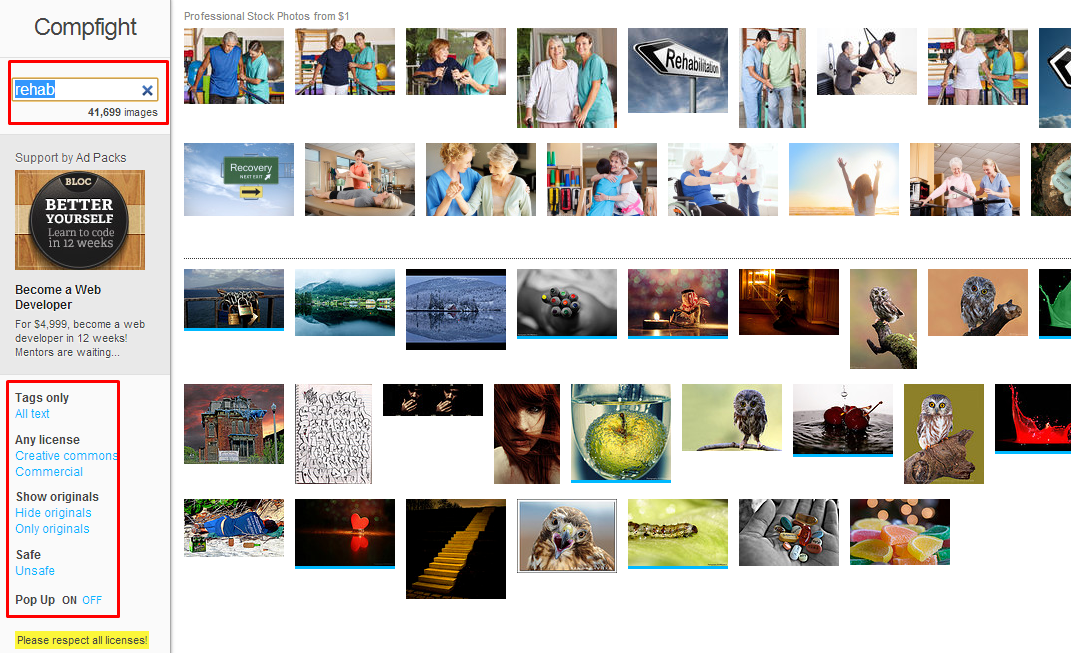 As you can see, there's a wide variety of options that would support any blog post or page content.
Pictures are a great way to draw people in. They only take an instant to register, as opposed to a lengthy text post. Compfight is basically like Zemanta, except I prefer to have something like Zemanata out of my workflow. Also, Compfight is much more accurate in relevancy and quantity.
Thanks for reading! These tools are definitely great ways to boost content strategy, perform social listening, and source some awesome photos.
Cheers!

Written by Jesse Aaron. Jesse is a professional blogger with a passion for homebrewing. He writes on a variety of topics on his blog, Mashbout.
If you enjoyed this article, Get email updates (It's Free)