We hope you enjoy Brandwatch's socia media data on Super Bowl 2015.
Top Brands During the Game (6 p.m – 10:30 p.m. ET)
Anheuser-Busch: 173,100+ mentions
Nationwide: 126,100+ mentions
McDonald's: 41,900+ mentions
Doritos: 48,000+ mentions
Coca-Cola: 38,700+ mentions 
Skittles: 38,000+ mentions
Microsoft: 31,100+ mentions
Jurassic World: 27,900+ mentions 
Nissan: 26,300+ mentions
Pepsi: 21,100+ mentions

Of note, this is graph represents a 10% sampling of Super Bowl commercial mentions
Evening of the Game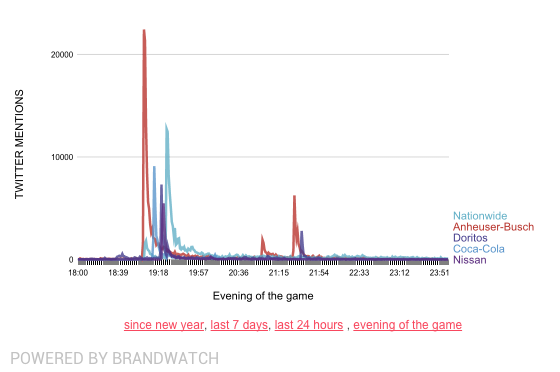 Past 24 hours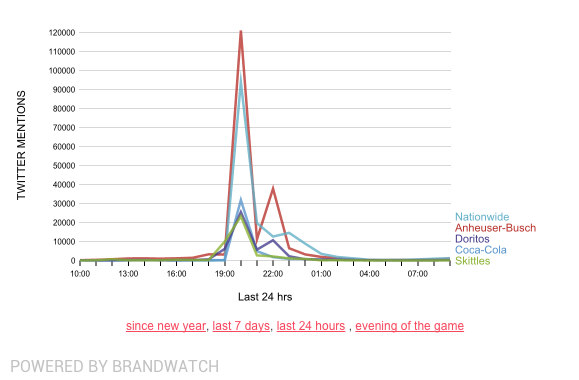 Top Brands since new year (1/1/2015 – 2/2/2015)
Note: the rest of the data below, besides Nationwide are from new year through February 2.
Anheuser-Busch: 402,200+ mentions
Nationwide: 185,400+ mentions
Doritos: 85,500+ mentions
Pepsi: 73,600+ mentions
McDonald's: 64,000+ mentions
Coca-Cola: 58,400+ mentions 
GoDaddy: 57,700+ mentions
Jurassic World: 52,000+ mentions 
Microsoft: 46,000+ mentions
Skittles: 50,000+ mentions
Top Hashtags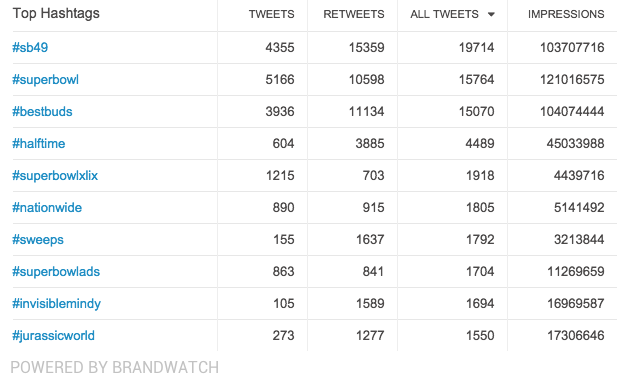 Most Mentioned Tweeters
The @Budweiser handle received the most mentions, followed by @Pepsi, @McDonalds, and @Nationwide.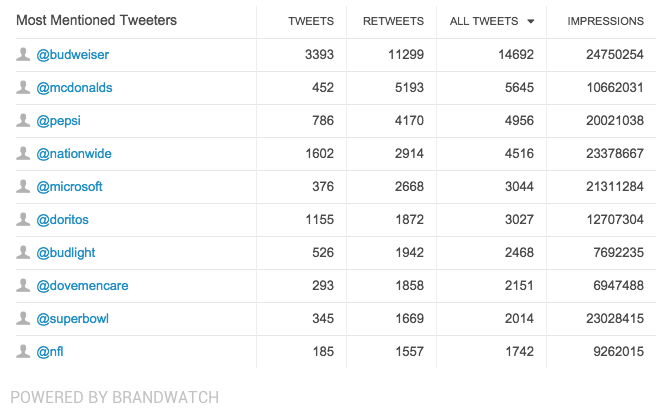 Most Mentioned Topics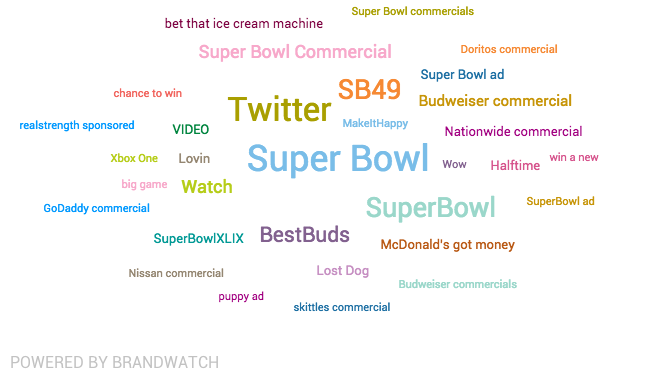 About Brandwatch
Brandwatch is one of the world's leading social intelligence companies. Its social media listening and analytics technology platforms gather millions of online conversations every day and provides users with the tools to analyze them, empowering brands and agencies to make smarter, data-driven business decisions.
Acquiring social influencer analytics firm PeerIndex in December 2014, Brandwatch continues on its aggressive business trajectory following on its most recent round of venture funding to the tune of $22 million. The company grew over 100% year-on-year in 2013, has won awards for its technology and renowned corporate culture, and regularly wins accolades for its impressive growth. The Brandwatch platform is used by over 1000 brands and agencies, including Whole Foods, Whirlpool, Pepsico, British Airways, Papa John's, and Dell.
If you enjoyed this article, Get email updates (It's Free)