Having an active social media presence is essential for marketing a business. The relationship a business can build with their customers through social media cannot be accomplished through any other marketing technique. However, if social media is approached in the wrong way, not only will your business not develop a relationship with followers, you could lose customers. Before jumping into the world of posting, tweeting, commenting and liking, be sure to steer clear of these social media mistakes.
Focusing on Promotion
While an active social media presence can lead sales, you should never focus exclusively on this aspect. People do not follow your brand to be sold to. So it's important for businesses to diversify the type of content they post to their social accounts. After all, social media is all about sharing stories and experiences, not products. Instead, provide stories or photographs that customers will find funny or valuable in some other way. From there, you can occasionally offer deals for social media followers, as an incentive for new followers to join.
No Updates
The reason why people follow you through social media is to hear what you have to say. If you ignore your accounts, people will stop following you, never to return. One major mistake that businesses make is having a great social media presence to start, only to lose interest after a while. When this happens, you might build up a considerable amount of followers, only to have them leave when you stop posting. Stay consistent with your posting frequency to keep your followers around permanently. Although this isn't the tactic for continued social media success, there are tools available for scheduling posts in advance.
Ignoring Customers
Social media is a great way to connect with customers, but you must answer their queries for this outlet to work for you. The majority of people who ask questions on social media do so because it is faster than sending an email or making a phone call. Beats by Dre practices awesome customer services through their twitter account, @BeatsSupport.  Customers tweet the handle with problems and customer services representatives respond to the tweet asking for more information about their specific problems.

Social media allows for faster response times to customer questions. If you are not able to respond quickly, you could miss out on sales, as they will simply move on to another business that answers them immediately.
Boring Approach
If you look at the most popular pages on Twitter and Facebook, they are normally doing something unique. Many comedians have jumpstarted their careers on Twitter because they are creative with their Tweets, which leads to visitors taking an interest in them. While you are not expected to have the delivery of a professional comedian through social media, it does help if you are creative with what you show your followers. Havahart uses this approach on their Facebook page.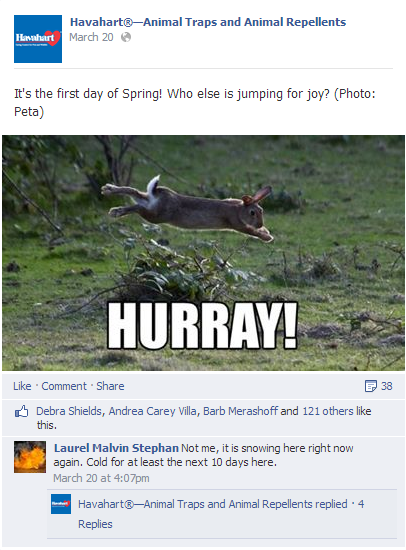 Sharing humorous content that your followers can easily connect with is the key for businesses to stay inventive with social media accounts.
Not Making Adjustments
Just because you have created a social media plan does not mean that you have to stick with it indefinitely. When you see that things are not working, change them up. If you were running a physiatry recruitment service and you weren't finding employees for anyone, you would not keep going with the same strategy and the same can be said for any business. Keep track of the number of followers that you gain each week and make note of the types of posts that you made. If you gained a significant number of followers, it is a strong indicator that those posts made a positive impression. Likewise, when you lose followers or do not receive a response to your posts, try something else the next time.
Paying for Followers
It might seem like a good idea to increase the prestige of your brand, but purchasing followers rarely works the way you would think. This is because none of the paid followers actually add anything to your page, other than being a number. Paid followers will rarely engage in conversations, so you are left without discussion on your pages, despite your numbers. Social media is all about making connections. You can make connections with fake followers!
About The Author

Savannah Marie is a social media junkie, online marketing wizard and consultantfor SEOcompanyGo. Catch up with her on Twitter and Google+
If you enjoyed this article, Get email updates (It's Free)