So you have a strategy in place for your social media page, but do you know if it's working?  In order to get the results that you're looking for with regards to social media, you need to have an awareness of how effective those strategies are.  Luckily, there are plenty of tools and utilities to help you. Here are some strategies to get you started:
Put Facebook Insights to Work for You
Marketers can glean a vast amount of valuable information through the use of Page Insights, including information on topics such as the following.
Optimal Timing of Posts
Go to the navigation bar of your Facebook page and in the admin panel's top section, click on See Insights.  You should automatically be directed to the overview page.
Click on the option designated for posts.  This will lead you to information that tells you when your friends are online.  The data that you see on this page gets updated on a weekly basis.  Analyze the activity level associated with each time frame, and try to plan your posts so that they appear within a thirty minute window of the time when activity is at its highest.
In addition to evaluating what times are the busiest, do the same for the days of the week.  You can find this information by looking at the bars that appear above each day.
Optimal Formatting of Posts
Recently, thanks to the advent of sites such as Instagram and Pinterest, visual content has been rising in popularity.  Because of this, many of the people involved in social media management shifted to a focus on producing visual content to keep their audience engaged. If you are a custom home builder and want to showcase your home on social platforms, this is great news. In any case, though, it is essential to know the type of posts that your audience prefers, which you can discover by doing the following:
Within the Insights dashboard, go to the section for posts.  Once here, click the tab labeled Post Types located beside When Your Friends are Online.
Once here, you will find a bar graph revealing average levels of engagement generated by each type of post you've been using.
Analyze the data conveyed through this graph. Keep in mind that even though one form of post might stand out as the most effective, you still need to continue trying different formats.
Approach these graphs by looking at them from all angles and considering the various metrics.  For instance, you'll want to consider the engagement of each post in addition to the reach.
Unveil hidden connections that might have gone unnoticed by sorting your posts.  When analyzing post performance, you should be focusing on the following:
Content of the post. Have certain themes done well?  If so, what are they?
Copy. When it comes to sentence structure, do you notice that some types of sentences are more effective than others?  Do you use any literary devices that seem to work well?
Appearance. What are your most effective forms of imagery?  Think about things such as color schemes and photographs vs. illustrations, and determine what works the best for you.
Take Advantage of Tools on Twitter to Reach a Wider Audience
Just because Twitter doesn't give you insight directly doesn't mean you can't gauge your success on the network.  Several external tools are available to give you an idea of how well your current strategies are working.  Consider using resources such as:
1.    TweetReach
This tool breaks down the impressions, exposure, and approximate reach of your previous fifty tweets, but the section for contributors is the area that you should pay special attention to.  Here, you can see all the users who helped you to widen your reach during that span.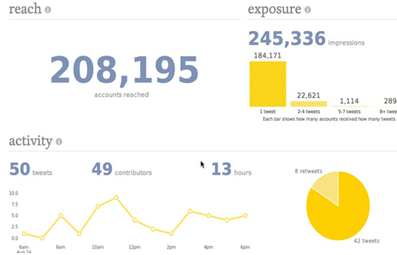 Once this information has been obtained, you would be wise to develop a Twitter List featuring the people who contributed most to your reach.  Use the dashboard TweetDeck to help you keep track of this list.  Hopefully, this list will serve as a reminder of who you should be engaging with on a routine basis.  Focusing on these users is an excellent way to quickly bolster your influence and widen your reach.
2.    Buffer
Similar to Facebook Posts Insights, Buffer allows you to sort posts and tweets based on the level of engagement they're generating.  Using 50 of your highest ranking Tweets, focus on factors such as:
Structure. Are hashtags used? Where are the links located?
Content. What seems to be liked the most: images, video, or links?
Elements. In what ways are hashtags and mentions used?
Copy. Did you project a certain tone or use any literary devices?
3.    Followerwonk
If you want to know the optimal time to post your tweets, you should start using Followerwonk, specifically the tool it features that lets you analyze your followers.  Simply type in your username for Twitter, and in the menu, click on the option Analyze Their Followers.  This shows you hour by hour the activity of your followers.
With these strategies in place for Facebook and Twitter, you no longer have to be in the dark.  Now, you can accurately assess how well your current methods are working, and make changes to them as necessary. They say that knowledge is power, so with that in mind, the knowledge and data you receive from the strategies listed above will be just the thing to take your social media marketing to the next level.
About The Author
Savannah Marie is a social media junkie, online marketing wizard and consultant for SEOcompanyGo. Catch up with her on Twitter and Google+
If you enjoyed this article, Get email updates (It's Free)