Social media platforms have developed into dynamic marketing tools capable of reaching the trusted networks of today's consumers. In an effort to add legitimacy and better quantify social media's advertising force, Brandwatch, a global business, provides software solutions to help marketers capture and analyze social data. To further its cause, Brandwatch also publishes in depth reports to identify and analyze various industry trends. Recently, Brandwatch posted one of these reports to share invaluable insights on the telecommunications industry.
Among its many useful findings, Brandwatch's "Social Insights on the Telecommunications Industry" report gives telecom brands an overview of the current online landscape, actionable competitive benchmarks, and a number of specific guidelines for sharpening social intelligence. The report is divided into five sections: Telecommunications Social Index, The Brand-Audience Relationship, A Look at Telecommunications Audiences, Customer Service Analysis, and An Intent to Switch Services. All of the invaluable data and insights on these distinct topics are the result of savvy analysis of 25 telecommunications businesses across the globe.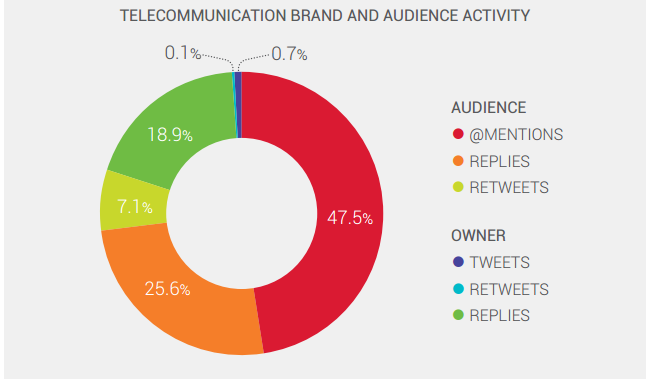 One particularly useful segment of the report is the Telecommunications Social Index section. This index provides brands with benchmarks against which they can analyze their online presence. The index scores brands based on five specific attributes:
Social visibility: the volume of conversation a brand generates across social channels
General visibility: the volume of conversation a brand generates on blogs, news outlets, and forums
Net sentiment: how positive the overall conversation about the brand is
Reach growth: the growth of a brand's following over the course of a month
Social engagement and content: how effective brands are at communicating with their audiences
What's more, the report also provides telecom brands with helpful findings on the brand-audience relationship trends that are most common today. For instance, Brandwatch finds that audiences controlled 80% of the social conversations during the period of analysis. And of the 20% of the conversation originating from brand accounts, the majority is simply replies to audience concerns. Drawing on this data, Brandwatch concludes that audiences are controlling the discussions with brands.
Of course, these are only a few of the report's insights, not to mention the extensive resources and quality data emphasized throughout. It is difficult enough to craft effective marketing in competitive industries like telecommunications, but thanks to Brandwatch and its impeccable reporting, your brand can have an upper hand.
If you enjoyed this article, Get email updates (It's Free)