When a new social platform comes on the market, it takes a while to catch on because the name is so obscure. Everyone knew Google when Google+ came along in 2011, but it still didn't take off as fast as everyone expected it to. This may be changing. Traffic was slow, but today the site has around 359 million users and continues to grow.
This number, along with new features, has made Google+ an essential part of an integrated online marketing strategy. If you're not investigating the possibilities, you may be missing out on a great opportunity to grow your website. Here's why you need to add Google+ to your marketing mix, plus tips on how to do it.
More Effective SEO
When a search engine creates a social network, is it any surprise the network's content fares better in search rankings? Studies show a +1 can do more for your position than Facebook likes or even root domain. Don't give up on other social channels – just put Google+ at the center of your social strategy to see better search results. Here's how:
Complete your Google+ profile, adding relevant keywords along the way.
Post content regularly, with relevant hashtags.
Set up a local page for your business and improve local SEO results.
More Precise Targeting
The ability to search on social media has never been easy, so the sites are building better search capabilities to create more targeted experiences. Google+ had these capabilities from the very beginning.
Each post is optimized based on the first 40-50 characters, creating better semantic relevance. Moreover, you can target users based on demographics, interests and other detailed parameters, reaching only the most viable and interested prospects. Once you reach your target audience, be sure not to bore them. Clarity Way uses their Google+ page to share motivational stories, industry news and client testimonials. Using a range of content will appeal to a variety of people in your target audience.
You'll take full advantage of these capabilities when you:
Segment your circles into specific categories.
Join the most interactive and relevant communities for your business.
Don't create generic posts – tailor each one to a specific community or communities.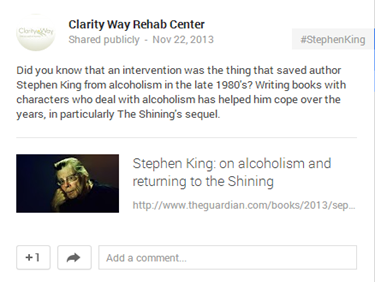 Visual Marketing
Photos and videos are standard marketing tools, and Google+ not only streamlines the process, but also makes improvement possible. The Auto Awesome Erase feature lets you remove unwanted elements from your photos, while Auto Awesome Movies helps you create video compilations of old photos and videos, which make for great highlight reels.
Here's how to get the best results from visual media on Google+:
Write stories around each photo and video
Post links to YouTube videos and infographics on your page
Use Auto Awesome to edit and optimize photos and videos
A More Comprehensive Content Strategy
The blog you write for one site will build your reputation there, but not on all the other sites for which you write. There was never an effective way to compile all your online content under your own name until Google+ Authorship came along. Now, you can connect everything you write to your profile, brandishing your credentials as an author and a thought leader.
To get the full advantage of Authorship, you need to:
Post a clear headshot to your profile.
Place your byline on every piece of content you write.
Add the author tag to your profile.

Better Interaction
Interaction is the cornerstone of media marketing. This is why marketers enable followers to leave comments on blogs, Facebook posts and YouTube videos. Google+ Hangouts use multimedia, so you can actually interact with people via voice or video. This lets you see and hear the people you want to reach, which creates a deeper relationship.
To make your Hangout more fun and exciting:
Share lots of photos and videos during the session.
Encourage invitees to do the same.
Use Hangouts On Air to broadcast chats on YouTube and save a recording for later discussion.
Google+ is finally starting to live up to its promise, so make the most of it. Create your profile and take advantage of all the features it has to offer.
Savannah Marie is a social media junkie, online marketing wizard and consultant for SEOcompanyGo. Catch up with her on Twitter and Google+
If you enjoyed this article, Get email updates (It's Free)