As a business owner or entrepreneur, you understand the power of social media. You've probably read success stories of small businesses who gained worldwide popularity by harnessing the social sharing features that various networks have to offer. Chances are, you're already taking advantage of the features available through the online giants, Facebook and Twitter.
What about other networks, and more specifically, Pinterest? As this network is dominated by fashion trends and recipes, the thought of utilizing it may not have crossed your mind. Maybe it should.
The Compelling Statistics
With 25 million users, Pinterest is a rapidly growing social network known for building referrals; it results in 60 percent of all online retail traffic referrals.
It's also a proven success. Conversion rates for traffic referred by Pinterest are 50% higher than through traditional social channels. 47% of all U.S. online consumers have made purchases based on recommendations directly from Pinterest and the site generates 4x more revenue per click than Twitter.
Ready to jump on board? Follow the 6 tips below to make Pinterest a successful part of your business.
1.    Learn About the Network
It should be obvious, but in case it's not: do some research. Learn what Pins are most successful and what demographics are most likely to be found on the site. Set up a free account and start browsing. Learn about different boards by downloading a "Pin It" button and doing some navigating. By learning about the network before trying to incorporate it into your business plan, you lessen the degree of stress associated with the endeavor.
2.    Research Your Targets
Start following Pinners from your target network. Take a look at what they post on a regular basis. By understanding what Pins appeal to them, you'll be better prepared to reach that market when you start your own campaign. Start creating boards with the information you gather in mind.
3.    Be Prepared, Legally
Make an effort to become familiar with copyright laws and how they pertain to Pinterest. Check sources before you Pin their information to your business's board to make sure all content is legitimate. By being proactive, you'll avoid potential trouble down the road.
4.    Introduce Yourself
Just like other social networks, Pinterest is a community that thrives on familiarity and connections. Regardless of how different the set-up is, the underlying need to connect with the world remains the same. Start a campaign that Pins small pieces of information – company mission statements, photos and bios of team members, success stories and more. By taking the time to introduce yourself, you increase the likelihood that your target market will be attracted to your future Pins. You'll also start a following, which is as necessary on this network as it is on any other network.
5.    Two Words: Special Offers
While customers want to know about you, and the information you have to share, they also want something out of the relationship; it's how businesses operate and grow. To increase interest, introduce special offers exclusively through Pinterest: coupon codes, printable coupons, links to deals and so on. Not only will your chances of a "re-pin" increase with each offer, you'll also be able to easily track Pinterest conversions and the overall success of your efforts. Follow in CJ Pony Parts' footsteps and dedicate an entire board to special offers and discounts.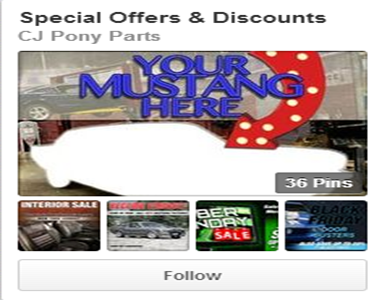 6.     Think Socially
Remember, a social network isn't just about your business. Just like any other network, users appreciate businesses who take the time to reach out in one way or another. Take the time to thank users who re-pin your Pins, follow those who follow you and re-pin the posts of those you follow. By being a team player, your motives will be less likely to come into question and your following will continue to increase.
If it's not already, Pinterest can and should be an integral part of your social media marketing efforts. Take the time to learn more about features and opportunities today.
About The Author
Savannah Marie is a social media junkie, online marketing wizard and consultant for SEOcompanyGo. Catch up with her on Twitter and Google+
If you enjoyed this article, Get email updates (It's Free)