With social media becoming the difference between success and indifference, learning how to navigate and utilize the web can be one of the most beneficial moves you can make in 2014. Twitter, especially, has been at the forefront of the social media sphere, with plenty of people taking advantage of its widespread access to celebrities and socialites.
It's undeniable the future of many gen-y students will be digital. "Twitter Guru" may be a very likely job title. There are online college programs offering traditional specialties of course, but we'll be seeing the integration of strategic digital communications very soon.
Twitter can, in fact, be a great place to make connections, have conversations, and form online communities. But for all of the good things that it offers, its high level of transparency can also be the very cause of a crippling social fall that can cost even the most reliable employee their career.
In fact, it is so easy to falter that it seems essential to list 5 common ways a Twitter user can fail and how to successfully avoid these common slip-ups.
1. Posting Offensive Tweets
As mentioned above, Twitter is highly transparent, meaning that once you've tweeted a post, it's out there for the world to see. This means that the offensive comments you may make to your friends when you're in close company with them are not acceptable in any online form. Justine Sacco, a former PR executive for InterActiveCorp, is a perfect example of what not to do. On her way to Africa, Sacco sent a tweet that she was "Going to Africa. Hope I don't get AIDS. Just kidding. I'm white!" This tweet cost Sacco her job and any sense of pride her native country of South Africa may have had for her. She was forced to publicly retract the statement with an apology.
How to Succeed
Keep your humor appropriate and light. Steer clear of subjects that are potentially offensive, and stick to topics that are timely and relative to your audience. Play it safe and be topically relevant. For example, Country Lane Furniture posted a fun gift idea tweet during Christmas:

2. Allowing Company-Sensitive Information to be Posted
Whether you're high up in your company or not, posting company-sensitive information is a no-no. HMV, a British entertainment company, dealt with this issue in early 2013, when an employee tweeted that the company was pulling a mass-fire on nearly 60 employees (which actually turned out to be more than 190). The upset employee used the company's Twitter account to make the masses aware of what was happening, while it was happening, in the Human Resources department. The repercussions the ex-employee will experience in her future career search are unknown, but it did embarrass the company.
How to Succeed
Keep any company talk to only what is positive and would be of benefit to the company and/or consumers. Any personal attacks should be reserved for other media. Also, there are safe ways to make a business Twitter account seem more official or authoritative. For example, Mosquito Magnet has included the authoritative trademark symbol on their Twitter account: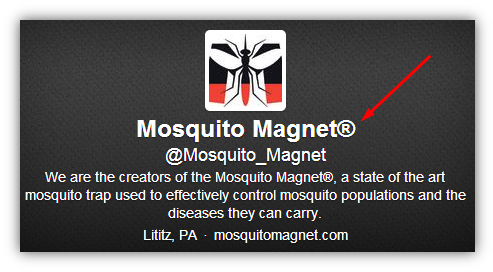 3. Not Watching Your Automated Tweets
An excellent example of this common Twitter failure can be found in the case of Live Nation Ontario's scheduled Radiohead concert that was cancelled due to a fatal accident where the stage collapsed. The company tweeted the cancellation but forgot to turn off the automatic tweets requesting that people send in their photos of the concert to create an online album. According to Scott Stratten, president of UnMarketing, "LiveNation wanted the benefit of people tweeting about a show in real-time, without actually being there in real time themselves. That tweet sat there for about 45 minutes before somebody took it down. That's about 45 days in Internet time."
How to Succeed
Keep your online presence to real time. With news and events constantly changing, trying to plan ahead can be next to impossible and can lead to disasters like the one above. So write for the moment.
4. Making Light of Current Global and Political Situations
Kenneth Cole, known for his fashion design, learned this one the hard way. After the streets of Cairo erupted in political upheaval, Cole tweeted, "Millions are in uproar in #Cairo. Rumor is they heard our new spring collection is now available online… -KC." Though his intention was to be humorous and drive consumers to the store that was linked in the post, the tweet was seen as highly insensitive to the sufferings of others in the world and making light of their turmoil. He, like some of the others mentioned above, had to delete the tweet and publicly apologize.
How to Succeed
Be aware of what's happening around the world. If you're not sure if the post is appropriate, it's probably best not to post. However, having someone else look it over before it goes out can be a great double-check.
5. Leaving Yourself Open to Criticism
Of course, criticism will almost always have some way of getting to you. However, there's a way of going about the social media sphere without openly asking for it. JP Morgan proved this point with its Twitter campaign #askJPM. The campaign was an open forum where anyone could comment and be in contact with JPM Vice Chairman Jimmy Lee. The discussion was following the company's unsettlingly poor image in the media. Needless to say, the campaign turned into an opportunity to fire one-liners and disparaging comments at a company leader and was soon ended.
How to Succeed
Rebuild your image and wait until you and your company are in a more positive light before you venture into a campaign of this sort. Instead, build comments by asking your followers questions that are more controllable and concrete.
Learn from these five common Twitter mishaps, and you'll ensure yourself the success you need to properly and efficiently navigate the social media sphere.

Written by Jesse Aaron. Jesse is a professional blogger with a passion for homebrewing. 
If you enjoyed this article, Get email updates (It's Free)