The past few years have seen the social media landscape change and evolve, and 2013 was no different. Social media continued to evolve in 2013 and organizations and individuals find new ways to utilize and leverage popular platforms.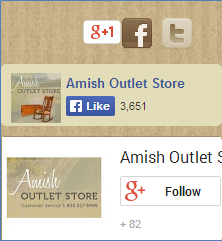 Take for instance, Amish Outlet Store – a custom Amish furniture business that has recently tapped into the digital world by integrating social media. When social media first became popularized, it was unconventional for a business to be seen remotely close to any social media realm. Now, it's even common place for Amish businesses to have a social presence. This is a spotlight moment in digital marketing; all businesses of all shapes and sizes are developing a social presence and there is little mystery left to the social media puzzle.
From a business perspective, here are five social media lessons that marketers can take away from 2013.
1. Television and Social Media Unite
This year saw many television networks begin to discover the valuable role that social media can play in promoting a show. Rather than serving as a distraction for television viewers, social media presents itself as a medium for people to connect with other viewers.
Show-specific hashtags, live tweets from network Twitter accounts and having cast members interact with fans are all examples of the way in which social media can be leveraged to promote television.
An example of a network that recognized the value of this relationship is AMC. AMC leveraged social media to market its hit show 'Breaking Bad'. This campaign included creating Breaking Bad Hashtags such as "#bbaddict" and posting exclusive content for fans to discover, according to Shoutlet. In particular, the "#bbaddict" hashtag allowed fans to become advocates for the show as they shared their Breaking Bad enthusiasm with their fans.
Bonus Prediction: Television networks will embrace fans with more content that links television and social media.
2. The Growth of Social Media Advertising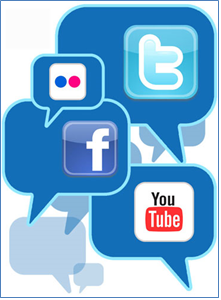 During the course of the past year social media advertising has grown in popularity and influence. Sites such as Twitter and Instagram are examples of platforms that introduced paid advertisements in 2013. Instagram's sponsored posts allow brands to deliver visual advertisements to users via the popular image sharing application. In a similar fashion, Twitter now delivers promoted Tweets to people's newsfeeds featuring products and advertising services for companies.
Social media advertising is not limited to paid advertisements, as companies are recognizing the value of content that promotes their brand and products. Holidays and special events present themselves as opportunities for brands to capitalize and create content that puts their name in the conversation.
Oreo is an example of a brand that brought attention to this trend with its brilliant Super Bowl advertisement. This wasn't a traditional social media ad as Oreo took advantage of the electrical issues during the game with a Twitter ad stating "you can still dunk in the dark." Timely promotional content of this nature is becoming an integral aspect of internet advertising.
Bonus Prediction: Businesses will begin investing more of their resources in paid social media advertising.
3. Social Media is Going Visual
Social media is a tool that allows brands to tell their story and let potential customers know who they are and what they stand for. These goals are best accomplished through engaging visual content that can be shared via social media platforms. In particular, short videos are mediums that offer a lot of freedom and creativity in terms of sharing a message.
Applications such as Vine and Instagram make it possible to share short, meaningful video clips with a large audience. 2013 has seen more companies catching on to this trend and including video content in their marketing plans.
Bonus Prediction: Look for a shift toward more short videos in content marketing campaigns, as cited by Entrepreneur.
4. Social Media's Market Influence
Some particular events in 2013 proved that social media's influence goes beyond the social sphere. Mashable noted the way in which one Tweet posted by a hacker on the Associated Press Twitter account caused the Dow to drop 150 points. Also, Carl Icahn's Tweet discussing his stake in Apple caused shares in the company to increase in value by nearly 5%.
These instances suggest that not only are people paying attention to social media, but it is influencing their market activity. This includes having an impact upon the way in which people invest their money and perceive various organizations.
Bonus Prediction: Social media content will become more focused and platform specific as companies continue to find more efficient ways to reach their audiences.
5. Social Media Isn't Just a Kid's Toy
Social media isn't just a means for kids to gossip, as influential adults continue to join the social space. During the previous year President George H.W. Bush and Warren Buffett created Twitter accounts, while Jamie Dimon is now a member of the LinkedIn Influencer Program. Social media has become a place to interact with important people and to see what leaders in various industries are saying.
Bonus Prediction: Look for more professionals to recognize the value of Google+ and for organizations to include it in their marketing schemes.
2013 saw social media continue to diversify in terms of its influence and value. In particular, businesses and markets should consider the aforementioned trends and predictions as they continue to develop their own social media strategies.

Written by Jesse Aaron. Jesse is a professional blogger with a passion for homebrewing.
If you enjoyed this article, Get email updates (It's Free)